MONSTER FROM AN UNKNOWN PLANET / Terror Of Mechagodzilla POSTER UK QUAD GODZILLA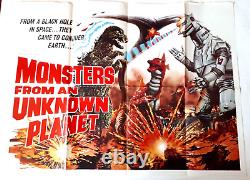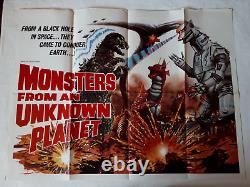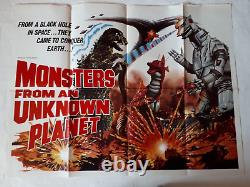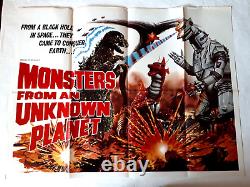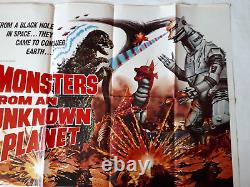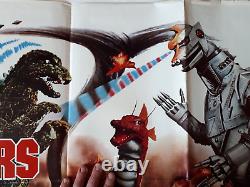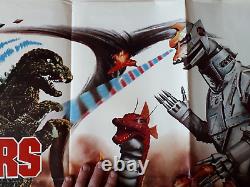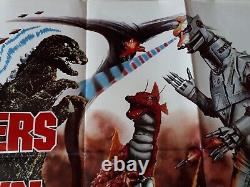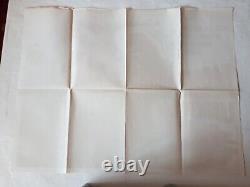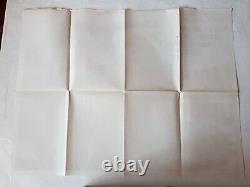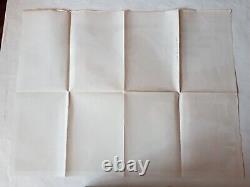 S UPER A MAZING M ERCHANDISE presents. Mechagodzilla's Counterattack' is a 1975 Japanese kaiju film directed by Ishiro Honda (his final film as a director), written by Yukiko Takayama, and produced by Tomoyuki Tanaka and Henry G.
Saperstein, with special effects by Teruyoshi Nakano. Distributed by Toho and produced under their effects subsidiary Toho-Eizo, it is the 15th film in the Godzilla franchise, serving as a direct sequel to the 1974 film Godzilla vs. Terror of Mechagodzilla stars Katsuhiko Sasaki, Tomoko Ai, Akihiko Hirata, and Goro Mutsumi, and features Toru Kawai, Kazunari Mori, and Tatsumi Nikamoto as the fictional monster characters Godzilla, Mechagodzilla 2, and Titanosaurus, respectively. The film was released theatrically in Japan on March 15, 1975, and in the UK in June 1976 under the title Monsters From an Unknown Planet. It received a limited release in the United States in 1978 by Bob Conn Enterprises under the title The Terror of Godzilla. The film remains the least financially successful entry in the Godzilla franchise to this day.
40" x 30" (101x 76 cm). Condition: VERY GOOD TO EXCELLENT. I'M A COLLECTOR SO WILL TAKE CARE WHEN PACKING.