RARE! Ingmar Bergman's The Seventh Seal 1957 Original C9 British Quad 40 x 30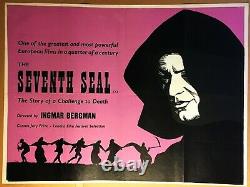 Rare Vintage US and Foreign. Original Lobby Card, Press Book & Movie Script. Ingmar Bergman's 1957 "The Seventh Seal" British Quad 40" x 30" (102 x 76cm) Theatrical Movie Poster. Was stored in a "climate controlled" dark room; away from pets, dust, moisture, water, bugs, exposure to UV sunlight, humidity, heat & smoke. This preserved the delicate paper and delayed the process of premature aging, which prevents the paper from slowly disintegrating; turning brittle & brown.
Also fading away the bright colors! Today, it's impossible to find this particular.
In "Excellent" condition, especially considering its age (1957). Over time, this rare & magnificent work of art will substantially increase in value and become a very prudent investment! 1957 - VERY Rare UK Quad Theatrical Poster.
NOW YOU CAN FINALLY OWN THIS VERY RARE UK QUAD. Very Rare and 100% Vintage Original. 1957 "The Seventh Seal" British Quad 40" x 30" (102 x 76cm) Theatrical Movie Poster Directed by Ingmar Bergman. Most of these vintage horror film posters are now extremely rare, no longer in circulation and irreplaceable snapshots of iconic horror cinema history and fine art. Their increasing value is dictated by the astute collectors.
To the movie theatres, they were garbage! Once the "film run" was over they were thrown away to make room for the next movie that was shown in those movie theatres. Today, these highly collectible posters are impossible to find anymore in such excellent condition! To your awesome poster collection before it's. A Svensk Filmindustri (SF) Production.
Gunnar Björnstrand, Bengt Ekerot, Nils Poppe, Max von Sydow, Bibi Andersson, Inga Gill, Maud Hansson, Inga Landgré, Gunnel Lindblom, Bertil Anderberg, Anders Ek, Åke Fridell, Gunnar Olsson, Erik Strandmark. An extremely rare and 100% original 30 x 40 British Quad from legendary director Ingmar Bergman...
One of Sweden's most famous films. The beautiful stone lithography artwork also features one of the most iconic images in all of cinema: Death himself overseeing the dance of death. Light general wear in keeping with the age of the poster. 1957 UK Quad 40" x 30" (102 x 76cm).
Film Actors: Gunnar Björnstrand, Bengt Ekerot, Nils Poppe, Max von Sydow. Film Plot: A man seeks answers about life, death, and the existence of God as he plays chess against the Grim Reaper during the Black Plague. Categories: Sweden, Classics, Cult, Mid-Century Modern, Knight, Crusades.
Due to the thick inks and strong, vivid colors the poster still looks incredible! Peter Strausfeld was an avant-garde/expressionist artist born in Germany. George Hoellering was a filmmaker born in Austria. Neither of them wanted anything to do with the Nazis both immigrated to England between WWI and WWII. Supposedly Hoellering originally came without much more than the clothes on his back and the sole print of a film he made in Hungary eager to find distribution for his art-house effort.
But just as the US interred thousands of Japanese-Americans during WWII, the UK interred thousands of German/Austrian-English on the Isle of Man at the Onchan Internment Camp. The two men met and became good friends at the camp between 1940 and 1941. Hoellering and Strausfeld apparently had many conversations along the lines of, if we ever get out of this place..
Well after the war Hoellering was tapped by fellow UK filmmakers to direct programming the Academy Cinema starting in 1944. He put a policy in place to "not" use the standard studio promotional material and quickly hired his old artist friend Strausfeld to create a unique poster for the cinema. The two continued their friendship and collaboration for nearly 40 more years until both Strausfeld and Hoellering died in 1980. The Academy Cinema muddled along without them for another 6 years but sadly closed its doors in 1986. The two men are credited with introducing a entire generation of Londoners to independent darlings like Godard, Fellini, Kurosawa, Ozu, Malick, Bergman, Renoir, Wadja, Eisenstein, Melville, Cassavetes, and yes, even Mr.
Scorsese when he was still unknown! So go ahead, Do NOT Wait Much Longer! Take advantage of this special offer today!
1957 "The Seventh Seal" British Quad 40" x 30". This exquisite poster will make a superlative addition to your growing collection. Or proudly displayed in a prominent wall in YOUR den, home office or game room! A very rare and un-restored UK Quad movie poster with bright colors also boasting a very clean overall appearance. Signs of general use, such as foxing, edge toning and/or wear.
No smudging or any type of minor tears! Comes securely packaged in thick & very sturdy "acid free" cardboard.
Major defects or pinholes what-so-ever! This rare poster was originally sent to theatres to be displayed in the lobby to promote the film's running engagement. When it was over, most were thrown away to make room for the next movie. Thus, they were also printed on cheaper paper and the vintage poster that have survived today have multiple tears, stains, rips and multiple pin holes in each corner.
It's a real miracle to find this awesome. 1957 "The Seventh Seal" British Quad 40" x 30" (102 x 76cm) Theatrical Movie Poster. The poster is folded precisely how one sheets were originally issued by the studio and sent out to the various theaters.
This collectible poster in particular is now impossible to find, let alone in such pristine condition! Take advantage of this SPECIAL offer NOW. Before This Rare UK Quad Movie Poster is Gone For Good! This exquisite work of original art from 1957 will definitely increase in value! This is your golden opportunity to add this exquisite UK Quad.
Our auctions NEVER have a "Reserve" with NO buyers premium. Every item is accurately described, with un-retouched high resolution images. Our consignors rates are also very low which (through word of mouth) has transformed.
KISS ME MONSTER into one of the most trusted online sources for rare movie memorabilia & other unique collectibles. KISS ME MONSTER was originally founded in 1966 by 2 collectors (still with our company today) working from a small garage in Queens, New York. Our descriptions are very accurate and 1st Class Customer Service has always been our Main Priority! We have NO intention of keeping you waiting for an extended time period.
Trained to securely package your valuable items & collectibles to avoid any damage during transit. If by chance, you want to use a different carrier (UPS, Fed Ex, DHL). The SECRET To Our Phenomenal Success..
Our staff will respond immediately to every concern & inquiry. We view everything from the customer's perspective, precisely in the manner any of us would expect to be treated.
Our entire team (including myself) wants to make 100% certain you have a superlative, fun and very rewarding shopping experience! We know for a fact you'll definitely appreciate a speedy and detailed reply. Therefore, we understand the new shift in this current market really well and always strive to be extremely accurate when providing specific details and describing the overall condition for each unique collectible that we list here.
In the coming weeks & months ahead, we will continue to bring you unique products and exclusive collectibles plus fresh ideas from our ever-changing modern world. In The Meantime, We Invite You To Join Us On This Amazing And Trend Setting Journey. We look forward to hearing from you shortly. Once again, we thank you very much for your continued support. Ingmar Bergman's The Seventh Seal 1957 Original C9 British Quad 40 x 30" is in sale since Sunday, October 25, 2020.
This item is in the category "Entertainment Memorabilia\Movie Memorabilia\Posters\Originals-International\1950-59". The seller is "kiss_me_monster" and is located in Jamaica, New York. This item can be shipped worldwide.
Size: 40 x 30
Country/Region of Manufacture: United Kingdom
Movie: The Seventh Seal
Original/Reproduction: Original
Year: 1950-59
Object Type: Poster
Industry: Movies