Gladiator, Kingdom Of Heaven, Exodus Gods & Kings Triple Movie Quad Selection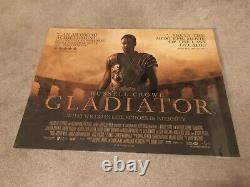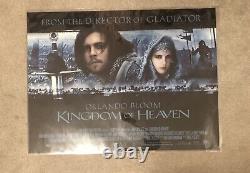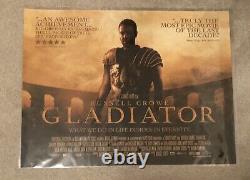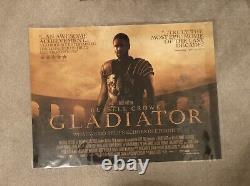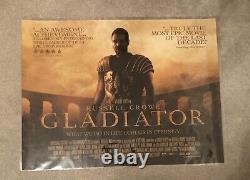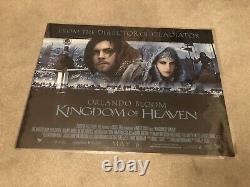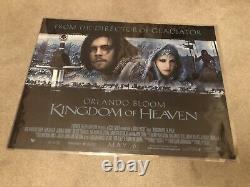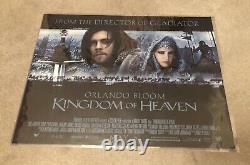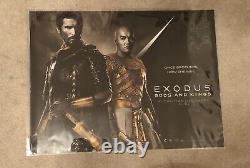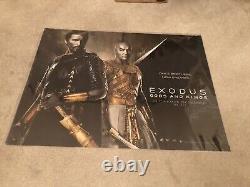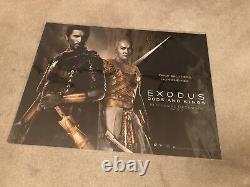 Gladiator (2000), Kingdom Of Heaven (2005), Exodus Gods & Kings (2014). Ridley Scott Triple Movie Original UK Quad Selection. All 3 Quads measure 30 in x 40 in (76.2 cm x 101.6 cm). Listed as'Used' but all Quads in very good condition. Rolled as issued (NOT folded). No Fold or crease marks. No tape marks or staple holes. Please refer to pictures for reference. Gladiator is a 2000 epic historical drama film directed by Ridley Scott and written by David Franzoni, John Logan, and William Nicholson. The film was co-produced and released by DreamWorks Pictures and Universal Pictures.
It stars Russell Crowe, Joaquin Phoenix, Connie Nielsen, Ralf Möller, Oliver Reed (in his final role), Djimon Hounsou, Derek Jacobi, John Shrapnel, Richard Harris, and Tommy Flanagan. Crowe portrays Roman general Maximus Decimus Meridius, who is betrayed when Commodus, the ambitious son of Emperor Marcus Aurelius, murders his father and seizes the throne. Reduced to slavery, Maximus becomes a gladiator and rises through the ranks of the arena to avenge the murders of his family and his emperor. Mannix's 1958 book Those About to Die (formerly titled The Way of the Gladiator), the film's script, initially written by Franzoni, was acquired by DreamWorks and Ridley Scott signed on to direct the film. Principal photography began in January 1999, before the script was completed, and wrapped up in May of that year, with the scenes of Ancient Rome shot over a period of nineteen weeks in Fort Ricasoli, Malta.
The film's computer-generated imagery effects were created by British post-production company The Mill, who also created a digital body double for the remaining scenes involving Reed's character Proximo due to Reed dying of a heart attack during production. Gladiator premiered in Los Angeles on May 1, 2000, and was released theatrically in the United States on May 5 and in the United Kingdom on May 11. The film received generally positive reviews from critics, with praise for the acting (particularly Crowe's and Phoenix's performances), Scott's direction, visuals, screenplay, action sequences, musical score and the production values.
The film won multiple awards, including five at the 73rd Academy Awards: Best Picture, Best Actor for Crowe, Best Costume Design, Best Sound and Best Visual Effects. It also received four BAFTA Awards at the 54th British Academy Film Awards for Best Film, Best Cinematography, Best Production Design and Best Editing. Since its release, Gladiator has also been credited with reinventing the swords and sandals genre and rekindling interest in entertainment centered around ancient Greek and ancient Roman culture such as the television series Rome. Kingdom of Heaven is a 2005 epic historical drama film directed and produced by Ridley Scott and written by William Monahan.
It stars Orlando Bloom, Eva Green, Ghassan Massoud, Jeremy Irons, David Thewlis, Brendan Gleeson, Iain Glen, Marton Csokas, Liam Neeson, Michael Sheen, Velibor Topic and Alexander Siddig. The story is set during the Crusades of the 12th century. A French village blacksmith goes to the aid of the Kingdom of Jerusalem in its defence against the Ayyubid Muslim Sultan, Saladin, who is fighting to claim back the city from the Christians; this leads to the Battle of Hattin. The screenplay is a heavily fictionalised portrayal of the life of Balian of Ibelin ca. Filming took place in Ouarzazate, Morocco, where Scott had previously filmed Gladiator and Black Hawk Down, and in Spain, at the Loarre Castle (Huesca), Segovia, Ávila, Palma del Río, and Seville's Casa de Pilatos and Alcázar. [5][6] The film was released on May 6, 2005 by 20th Century Fox in North America and United Kingdom and by Warner Bros. Pictures in Germany and received mixed reviews upon theatrical release. On 23 December 2005, Scott released a director's cut, which received critical acclaim, with many reviewers calling it the definitive version of the film. Exodus: Gods and Kings is a 2014 British-American biblical epic film directed and produced by Ridley Scott and written by Adam Cooper, Bill Collage, Jeffrey Caine, and Steven Zaillian. The film stars Christian Bale, Joel Edgerton, John Turturro, Aaron Paul, Ben Mendelsohn, Sigourney Weaver, and Ben Kingsley. It is inspired by the biblical episode of The Exodus of the Hebrews from Egypt led by Moses and related in the Book of Exodus. Development on the film was first announced by Scott in June 2012.
Filming occurred primarily in Spain beginning in October 2013, with additional filming at Pinewood Studios in England. The film was released on December 12, 2014 by 20th Century Fox, banned in Egypt and in the United Arab Emirates for "historical inaccuracies". It received generally negative reviews from critics for its inaccuracy to the source material, the casting of white actors in Middle Eastern roles and some also criticized the idea of Scott, a known atheist, directing a biblical film.